Downstream Services installs advanced trenchless solutions for the rehabilitation of industrial, stormwater and wastewater systems. Technologies like UV-cured fiberglass pipe lining and composite spray lining improve functionality and extend the useful service life of underground infrastructure without having to dig-and-replace.
We offer a variety of high-quality and long-lasting rehabilitation options that protect the environment and the utility:
Carbon Fiber Structural Repairs
Annular Space Injection Grouting
Mortar and Epoxy Composite Spray Lining
Remote Grouting System (Non-Entry)
Sectional Fiberglass Point Repairs
UV-Cured Fiberglass Pipe Lining
Trenchless Rehabilitation Equipment
Bypass Pumps
Injection Grouting Pumps
UV-Cured Pipe Lining Systems
Point Repair Trailers
Remote Winches
Mortar and Epoxy Spray Lining System
Remote Grouting System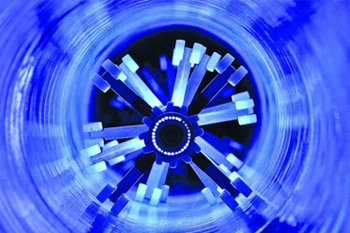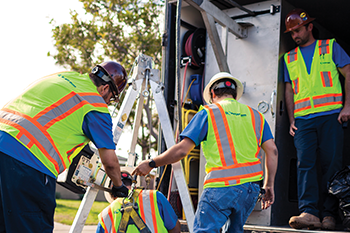 UV-Cured-In-Place Fiberglass Pipe Liners
Downstream Services is California's certified installer for Reline America's Alphaliner®, a UV-cured glass reinforced, spirally wound pipe liner that is custom-made per project design specifications. Alphaliner® is available in diameters ranging from 6 to 72 inches and up to 1,000 feet in length. We have successfully installed over 100,000 feet of liners with state-of-the-art installation equipment that monitors and records all critical aspects of the installation process.
Key Advantages of Alphaliner® vs Traditional CIPP
Consistent Field Confirmed Reliability
Tamper-Proof Quality Tracker System™
Proven 70+ Year Performance Life
Lower Life-Cycle Costs
Reduced Environmental and Community Impact
No Styrene Contamination or Liquid Waste
Superior Structural Strength (2,850,000-psi Flexural Modulus of Elasticity)
Shelf Life of 6+ Months
Downstream Services was invited to take part in a Water Quality of Flow Through Cured‐In‐Place Pipe (CIPP) study for California Department of Transportation that tested residual styrene concentrations downstream. The final report concluded our liner was "the most protective CIPP curing method was UV, where the concentrations of volatile organic compounds in all samples analyzed were below all known environmental thresholds".