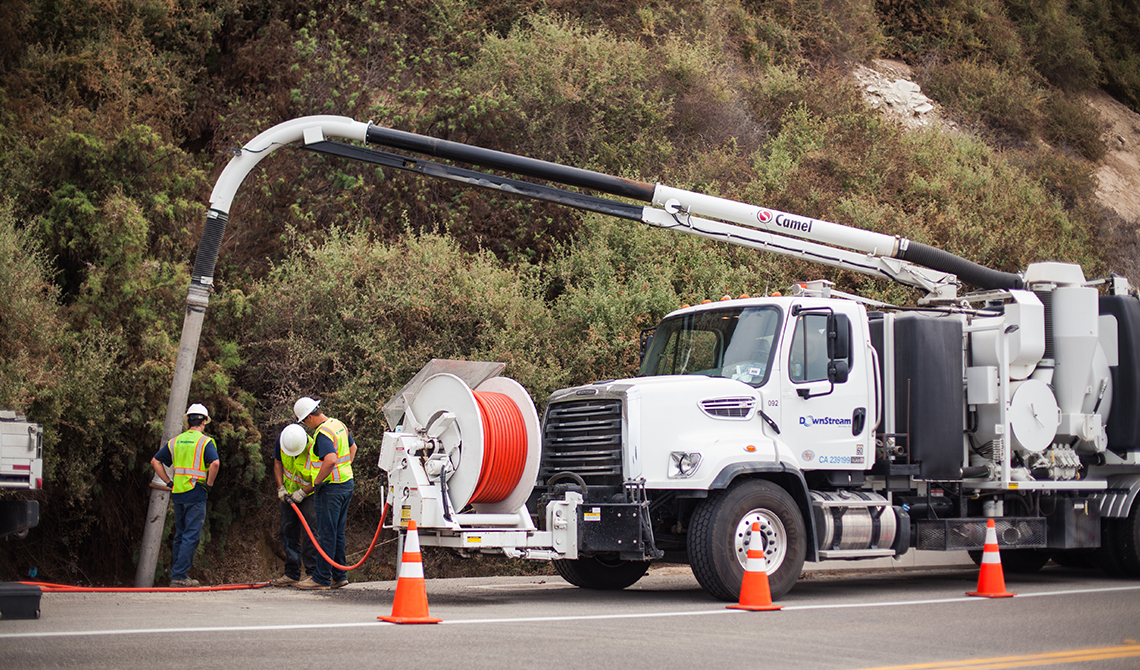 Stormwater and wastewater systems require regular assessment and maintenance to function properly. Cleaning restores hydraulic capacity and facilitates successful inspection, repair and replacement work. With units capable of water pressures up to 4000psi at 180gpm, Downstream Services combines vacuum and water technology to eliminate blockages and buildup. Our trucks are equipped with recycling, dewatering and compaction capabilities to increase productivity, create dryer payloads and lower disposal costs.
Using both hydraulic and manual hoses, operators have the flexibility of hydro-jetting up to 2,000 feet from a single access point. Downstream Services can clean pipes, siphons, wet-wells, hydrodynamic separator units and catch basins more efficiently with specialty nozzles, proprietary attachments, and in-house fabricated tools.
Maintenance Fleet & Capabilities
From mechanical bucket machines to high-pressure combination trucks, Downstream Services offers a wide variety of methods for pipeline cleaning and debris disposal.
Camel Jet/Vacuum Combo Trucks
Recycling Camel Jet/Vacuum Combo Trucks
750 Gal Mini Pumper Trucks
Trailer Jetters
4,000 Gal Pumper Trucks
Push Plate Systems
Mechanical Bucket Cleaning Systems
Transportable Treatment Units (TTU)
Bypass Pumping Systems
Wide Range Of Nozzles, Proprietary
Attachments and Specialty Cleaning Tools
We select the preferred method of cleaning based on the following variables:
Previous History and Structural Composition
Project Footprint and Site Conditions
Quantity of Debris and Flow Levels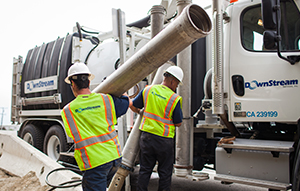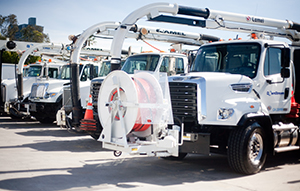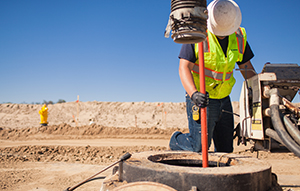 Solid waste, like gravel, sand, silt and rocks, frequently enters stormwater and wastewater systems by way of damaged or deteriorated manhole covers, joints, pipes, and service connections. Mechanical cleaning methods can effectively clear these heavy debris, especially in large diameter situations.
Mechanical cleaning is an environmentally friendly alternative to hydro-jetting because it does not rely on water pressure or pipe flow. The below attachments can be used to push or pull accumulated debris through the pipe.
Cleaning Buckets
Rock Rakes
Rodding
Sizing Rings
Bucket Machines
This cleaning method uses a system of heavy duty cables and rollers that insert specialized cleaning buckets to grab and retrieve debris. Once the bucked is filled, cable direction is reversed in order to pull objects and debris back towards the insertion point. The configuration of the bucket cleaning machine is designed based on project specifications.
Advantages of Cleaning with Bucket Machines:
Systems are capable of muscling 10,000 lbs of pull at a distance of 400 feet or more
Clear heavy blockages, even if the pipe is 100% clogged with large masses of roots, sand and grit
Do not have to stop work to refill water tanks or empty trucks